Genre:
Summary: Sequel to the Psycho-Pass series, taking place one-and-a-half years later.Having learned the true nature of the Sybil System, Akane Tsunemori chose to obey the system, believing in both humanity and the legal order. She's part of a new police section and spends her everyday…
Genre:
Summary: Kei Kurono is a typical high school student in a selfish world, not caring about anyone other than himself. However when, by chance, he was forced to help out his childhood friend, Katou Masaru, rescue a drunkard who fell into subway tracks, both he and Katou were killed... Or not.…
Genre:
Summary: As the story of Rozen Maiden closes, a new chapter begins in Rozen Maiden: Träumend. Shinku and the other sentient dolls of the Rozen Maiden collection are living life as usual at Jun Sakurada's house. Having settled into his role as Shinku's partner in the deadly Alice Game, Jun…
Genre:
Summary: For as long as Akari can remember, she and Hiroyuki have always been friends. But with time, everything changes, and her feelings have turned into something more. As a new semester of high school begins, will the two childhood friends come closer together or drift further apart?…
Genre:
Summary: Makoto Tsukimoto (nicknamed Smile) is a quiet high-schooler who's been friends with the loud and energetic Yukata Hoshino (nicknamed Peco) since childhood. They're both in the local table tennis club and both have a natural talent for it, although Smile's personality always prevents…
Genre:
Summary: A sophomore named Kanako who enrolls in all-girls school because she has a phobia of men and wants to find her destined yuri partner. She meets a captivating freshman named Mariya who fits her criteria—except her seemingly ideal mate happens to be a cross-dressing sadistic boy.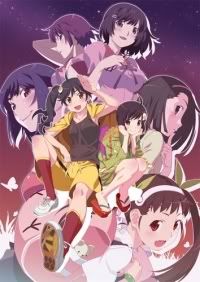 Genre:
Summary: Plot Summary: In Bakemonogatari, the story centers on Koyomi Araragi, a third year high school student who has recently survived a vampire attack, and finds himself mixed up with all kinds of apparitions: gods, ghosts, myths, and spirits. However, in Nisemonogatari, we pick up right…
Genre:
Summary: Hailing from America, Jabberwock—a street basketball team with skills comparable to those of the NBA—has come to Japan to play an exhibition match against Strky, a team of former third-year students who once played in the Interhigh and Winter Cup. However, due to the vast difference…